BLOG : Blending Hip Hop and "Rap Therapy"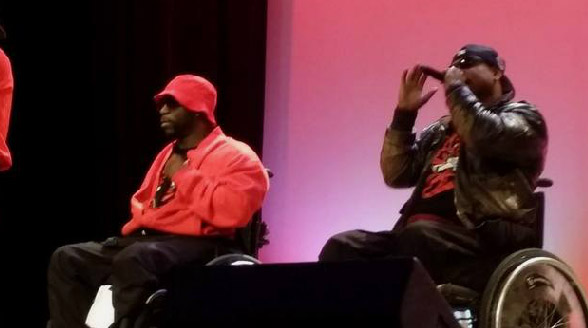 This week in our music blog series we are checking out 4 Wheel City: two hip hop artists from the Bronx who rap about their lives with disabilities. Namel "Tapwaterz" Norris and Ricardo "Rickfire" Velasquez convey unapologetically that people with disabilities are people first and foremost, who have the same talents and dreams as any other human being. This message is amplified with the artists' dual role as motivational speakers. They perform their "rap therapy" at hospitals, schools, rehabilitation centers, fundraisers, and events all over the world, spreading hope and helping to create more opportunities for people with disabilities.
Get some appreciation of their sound by checking out this engaging music video for Welcome to Reality, which shows a dramatic story with some very thoughtful and intense lyrics.
The Roots of 4 Wheel City
Ricardo Velasquez was walking home after a party when he noticed a commotion ahead of him, with people running in all directions. Determined to mind his own business, the high school senior kept heading toward his building in the Bronx housing project. Suddenly he heard someone shout, "He's got a gun!" "The next thing I know I'm on the ground bleeding," Velasquez, 32, recalls of that night 13 years ago. "I was screaming, and it was crazy. It happened just that quick."
Three years later, a resident of the same New York neighborhood, 17-year-old Namel Norris was at his sister's birthday party when his cousin started playing with a gun. The weapon accidentally fired, striking Norris in the neck and paralyzing him from the chest down.
A few months after Norris's accident, his mother spotted Velasquez in the building next door, introduced herself, and asked, "Will you be my son's friend? He doesn't know anyone else in a wheelchair." Velasquez agreed-he too had struck up a friendship with another spinal cord injury patient while in rehab-and he and Norris's mom swapped phone numbers. The two men found much in common. Both sustained spinal cord injuries and were in wheelchairs. Both felt shunned by the people they used to hang out with. And both had a serious passion for hip hop. In the coming months, they launched 4 Wheel Records, with Norris as solo artist and Velasquez as producer, and completed two albums. In 2006 the two men officially launched 4 Wheel City, a broader, non-profit movement to "inspire, educate, advocate, and entertain." Since then, 4 Wheel City has toured far and wide and touched many lives in between. Says the duo's tour manager, Gary Delamothe, "In the urban community, where there is unfortunately a lot of violence, a lot of guys and girls end up in wheelchairs, and they don't have no one to look up to. Namel and Rick sort of became their voice."
Music, Community and a Message
The best part about 4 Wheel City, says Norris, is "the fact that this has meaning to it. We've really been entrenched from the beginning. It's just real." The two men hope to eventually tour the globe and reach out to people with disabilities in other countries. They want to be recognized for their art, not just their wheelchairs. "Just because you have a disability, that doesn't mean that your life is over," says Velasquez. "We want to inspire other people to go ahead and do things. It don't have to be music. It can be anything that you have a passion for, or maybe you had it before and you thought you lost it due to your disability. Our main goal is just to try and inspire people to live life to the fullest."
"Anything that you want to be or want to do-you can do it. Just put your mind to it," he adds. "Do not believe in the word 'can't.' When you have a disability you get a lot of doubt from people who say, 'Oh you can't do this, you can't do that.' You just prove them wrong by doing it anyway."
4 Wheel City will be performing at Concepts' annual Gala on October 19th! Get tickets and see these guys live, along with other musicians!
Find out more about 4 Wheel City on their website where you can sample their music, read a deeper history of their lives and endeavors, and much more.